Cook This: Roasted garlic gives cucumber salad a flavor punch | Food / Recipes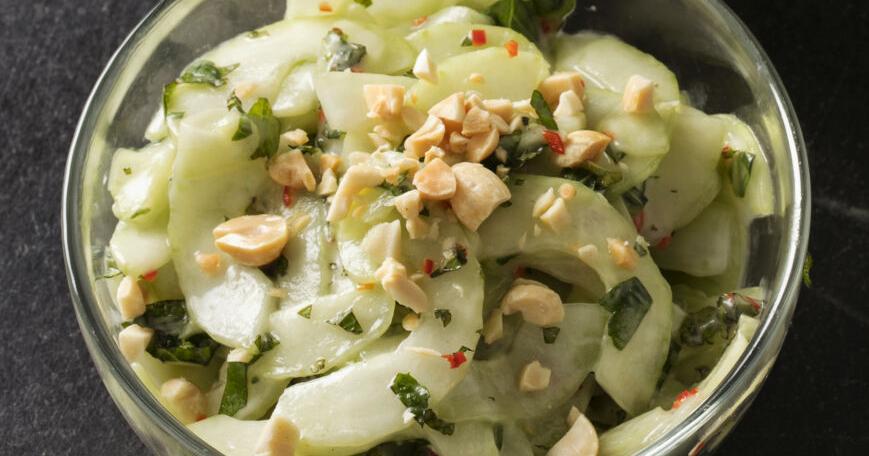 Cucumbers can be, well, a little boring. The salads too.
Don't get me wrong, I love the smack of a nice crispy slice of cucumber in a fresh green salad, but sometimes I just want more.
To the rescue comes this cucumber salad with a wonderfully creamy garlic dressing.
Drain the very thinly cut cucumber slices on paper towels before tossing them into the salad to keep it from going runny.
It contains fresh mint and basil with chopped peanuts and spicy Thai chili peppers to keep it from getting too heavy.
The dressing calls for roasted garlic (which takes about an hour). By all means, don't skip this ingredient. In fact, once you do, you'll get hooked. Garlic has a soft buttery consistency and a mild, slightly sweet taste. Try spreading it on a slice of French bread. Yum!
Serve this salad about an hour after pouring the dressing.
Cucumber Salad with Creamy Roasted Garlic Dressing
Makes 4-6 servings.
SALAD
4 cucumbers, peeled, halved lengthwise, seeded and thinly sliced
2 Thai peppers, hulled, seeded and thinly sliced
¼ cup chopped fresh mint
¼ cup chopped fresh basil
Salt
¼ cup dry roasted unsalted peanuts, coarsely chopped (optional)
1. Spread cucumber slices evenly on a paper towel-lined baking sheet and let drain for 15 minutes.
2. Gently toss cucumbers with ¾ to 1 cup dressing (recipe below), peppers, mint and basil in large bowl until evenly coated.
3. Let the salad sit for 5 minutes, then toss again. Season with salt to taste. Sprinkle with peanuts, if using, and serve immediately.
PAD
Makes about 1 cup. Use about 2 tablespoons of dressing for 2 cups of green vegetables.
3 large heads of garlic (3 ounces each), outer paper skins removed and top third of head cut and discarded
¼ cup white wine vinegar
3 tablespoons of water
2 teaspoons of honey
1 teaspoon of Dijon mustard
1 teaspoon minced fresh thyme
Salt and pepper
⅓ cup extra virgin olive oil
1. Set the oven rack to the middle position and heat the oven to 350 F. Wrap the garlic in foil and roast until golden and tender, 60 to 75 minutes.
2. Remove the garlic from the oven and carefully open the foil pouches. When the garlic is cold enough to handle, squeeze the cloves from the skins (you should have about 6 tbsp); throw away the skins.
3. Combine the garlic, vinegar, water, honey, mustard, thyme, ¼ teaspoon of salt and ¼ teaspoon of pepper until smooth, about 45 seconds, scraping down sides. from the blender bowl as needed. With the blender running, slowly add the olive oil until incorporated, about 1 minute. Season with salt and pepper to taste. The dressing can be refrigerated for up to a week; whisk to recombine before use.