Tinsae Elsdon: This Ethiopian-Australian chef brings injera, coffee and soul food to Sydney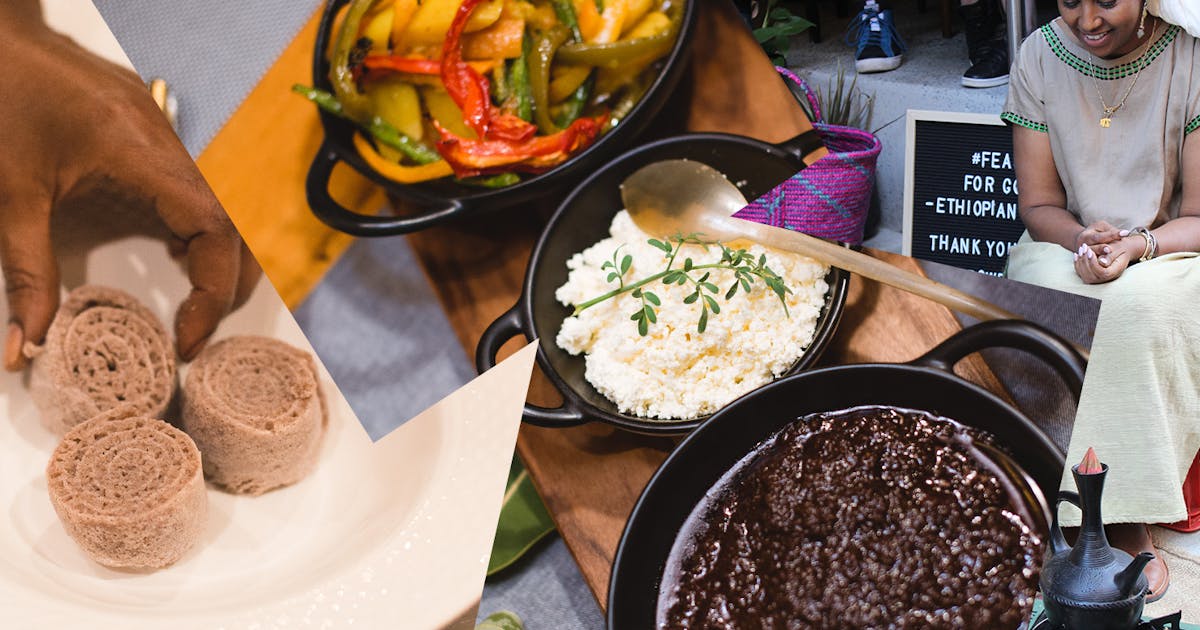 Sydney is home to an eclectic mix of businesses owned and operated by our refugee, asylum seeker and migrant community, and we believe this makes our city a richer and more exciting place to live. In this new series, with our friends at Welcome Merchant, we'll shine a light on some of these awesome businesses and the people behind them.
Ethiopia is a country synonymous with coffee. Even if you haven't seen the beloved episode of Unknown parts where Bourdain visits the East African country alongside chef Marcus Samuelsson, chances are you're familiar with Ethiopia's distinctively bright and complex coffee beans. Well, just like its coffee characteristics, Ethiopian cuisine is also bright, complex and really, really delicious.
In Sydney, good Ethiopian food isn't super easy to find, but follow Ethiopian-Australian cooking teacher, coffee roaster and cultural ambassador Tinsae Elsdon and you'll get a taste of this calming, slow-paced and deeply social style of cooking. . .
"I grew up on the outskirts of Addis Ababa before spending a few years working in the Middle East where I met my husband," says Tinsae. "We moved to Australia in 2008 and soon after I started making traditional Ethiopian coffee at markets and events. A few years later I started cooking for events, private dinners and my own pop-ups."
We were lucky enough to experience Tinsae's cuisine during a pop-up lunch at the Old Gold Cafe in Chippendale, hosted by Welcome Merchant. We started with shorba, a rich red lentil soup flavored with garlic, ginger and turmeric. Next, doro wat – a classic slow-cooked Ethiopian chicken stew, best mopped up with injera, a spongy pancake-like bread made from teff flour.
For dessert it was a fresh tiramisu with Ethiopian coffee. Next, an Ethiopian coffee ceremony. Tinsae roasts green beans over coals, before grinding them and infusing them in a clay pot called a djebena. Just as we savor the ritual of having our morning latte, this special process is part of daily life in Ethiopia.
Here we chat with Tinsae about Ethiopian cuisine, coffee ceremonies and where she buys Ethiopian spices in Sydney.
When did you first realize you had a passion for food and cooking? And when did you learn to cook?
My interest in food and cooking started as a teenager when I was helping my mother and aunt in the kitchen. I never thought of it as a passion or a career opportunity because as a girl in Ethiopia it is part of growing up. However, once in Australia and observing how much food and cultures were celebrated by people from different backgrounds, I felt the need to share my own food and culture.
What do you think is most special about Ethiopian cuisine?
In a word: injera! Spongy teff bread is the staple of most Ethiopian cuisines. You tear off a piece and use it to grab wat (Ethiopian curry). The other thing that makes Ethiopian cuisine special is the unique blend of spices and herbs we call berbere. It all makes for hearty good food for the soul.
Do you have a favorite Ethiopian dish that you love to cook and eat?
My favorite dish is probably the simplest in Ethiopia. It's called shiro. It is made from roasted chickpea flour, onion, tomato and garlic. It's a common food at home and always hits the spot!
Tell us about the Ethiopian coffee ceremony and what makes it such a special experience.
Coffee originated in Ethiopia, so it is an integral part of the culture. We have it several times a day, and it's always a social occasion. You will call the neighbors and always start brewing if visitors come in. The beans are bought raw and roasted over hot coals. Then the roasted beans are ground by hand and the coffee is brewed over the coals in a traditional clay pot called a djebena. It is served in small cups called sini, and three rounds are usually consumed in one sitting.
What prompted you to organize pop-up dinners and cooking classes?
When making coffee in markets and at events, people would ask me about Ethiopian cuisine and I saw that there was a real interest in Ethiopian cuisine and culture. It inspired me to start doing cooking classes and hosting pop-up dinner parties. It's been a great way to introduce people to cooking, and not having a permanent location allows me to host dinners in different locations.
For a long time I had imagined having a secret dinner at home and when I finally decided to do it, it was exactly as I imagined. It was a great experience to have people from different backgrounds around my table and to share my food and my culture.
Are you planning to open your own restaurant?
It's something I've often thought about. I don't plan to do that at the moment, but maybe in the future.
And finally, do you have any favorite Ethiopian restaurants or delis in Sydney that you enjoy visiting? Where do you like to source your produce and spices for your kitchen?
There are only a few options in Sydney. There's Jambo Jambo in Glebe, Gursha in Blacktown and if you're ever in Newcastle there's the excellent Habesha restaurant. Most of the products I use are meat and fresh vegetables. I try to buy locally whenever possible. I bring spices from Ethiopia and others from Ethiopian restaurants like Gursha.
Want to try one of Tinsae's incredible Ethiopian dinners? Check in on Instagram or the Dinner with Tinsae website here. Tinsae is also available to prepare Ethiopian food and coffee for events and private bookings.
To learn more about Welcome Merchant and their upcoming events, hop over here.
Image credit: Dinner with Tinsae, Ruth Elsdon